Your One Stop Shop For All Means Custom Metal Fabrication
Our production metal fabrication capabilities include:
Customer satisfaction is at the forefront of our business model. In doing so, Fabcor has invested itself with the latest and greatest technological equipment. No matter how large or small your project is, Fabcor has the means to Make it Happen.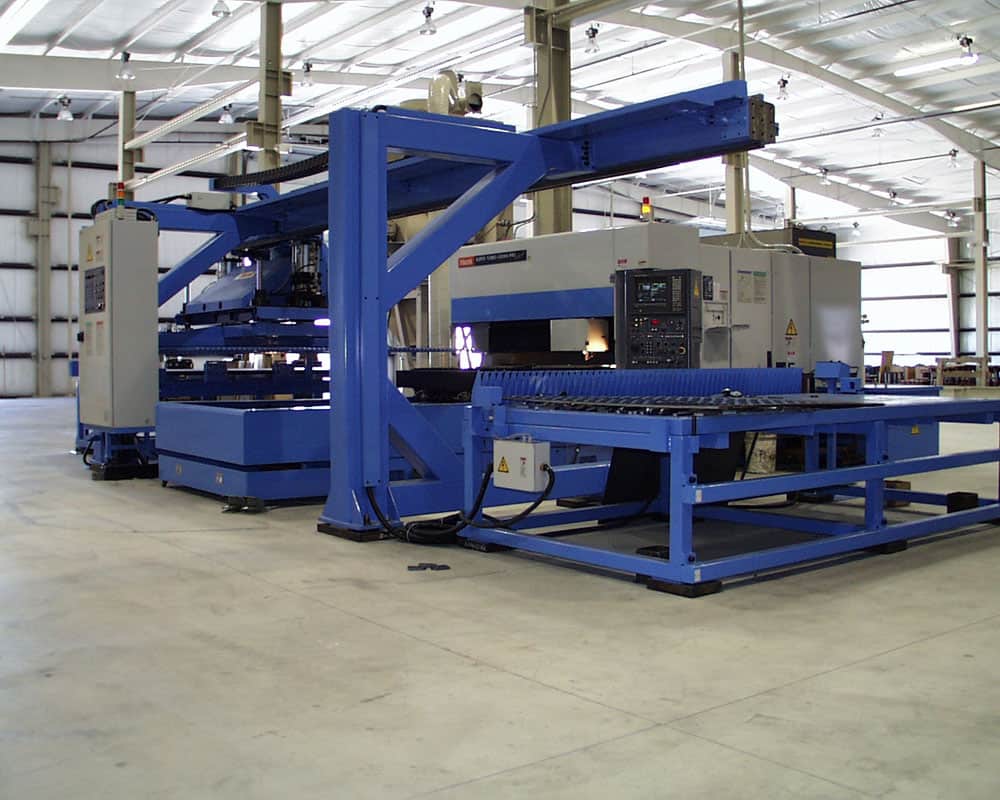 The key to a collaborative and efficient process throughout the manufacturing facility is to take sincere pride in quality and production control. When new parts or revised parts are sent to us, members of our team have controls in place so customers' requirements are met run after run.
Automation within our production software allows for quicker lead times from our engineering department to the shop floor.  A few of our value added production softwares include:
Inventor
AutoCad
Boost Software (Trumpf Equipment)
Artube (BLM Equipment)
Part of what make Fabcor stand out the most to our competitors is the newest technology Fabcor provides in its laser cutting equipment. In house, Fabcor has three lasers on its floor.  They include:
Trumpf 10kW Fiber Flat Laser
Trumpf 12kW Fiber Flat Laser
BLM 3,500 Watt Tube Laser
Each of these lasers utilizes advanced controls technology, making them some of the fastest cutting machines in the industry.  Pairing this with state of the art programming software Fabcor provides allows for precision cutting across all products cut.  To add, each of our lasers has automation to load and unload without an operator intervention allowing Fabcor to run lights out giving us capacity to meet your requirements
Our Flat Lasers are capable of cutting up to 1.125" thick plate as long as 144" and 72" wide.  Our tube laser can cut up to a 8.625" diameter capacity with a 28' tube length.
In similar fashion to our laser technology, Fabcor has also invested in the newest technology of equipment for forming material. In house, Fabcor has a multitude of different machinery used for forming material.  They include:
(4) Press Brakes up to 250 ton capacity
(3) Rolls up to .25" x 8'
(1) Power Folding Press with 9 Gauge Capacity
Automation including ACB (Automatically Controlled Bending) in our newest press brakes allows for precise accuracy and repeatability for each part formed.  With a vast array of specialty tooling combined with the newest technology our customers have peace of mind knowing that the explicit specifications are being met part by part.
Fabcor provides our customers with MIG, TIG, Spot, Stud & Robotic welding services in steel, stainless steel and aluminum. Given our 20,000 lb crane capacity, Fabcor has the capabilities to do weldments of all sizes.
Our highly skilled welders take great pride in providing conformable quality welds.  In order to maintain this consistency and quality, Fabcor has detailed process plans to ensure all parts have the weld integrity and apperance that you require.
Before a product can get out the door, Fabcor provides its customers with the capabilities to finish any product that goes throughout our facility. Finishing Services Include:
| | | |
| --- | --- | --- |
| Burr Removal | Edge Rounding | Surface Grinding |
| Wet Paint | Powder Coat | Black Oxide |
| Zinc Chromate | Nickel Plate | Heat Treating |
Need the product as soon as possible. Fabcor has a fleet of different vehicles to delivery your parts.  They include:
2016 For dF-350 1 Ton Flat Bed
2011 Ford Cargo Van
2006 Freightliner
1996 Gooseneck Trailer